on
November 21st, 2014
at
12:15 pm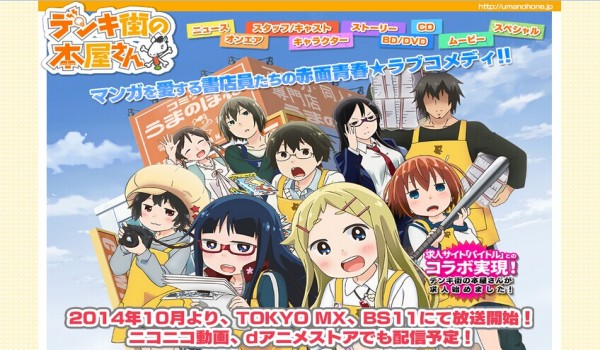 Title: [TVRIP] Denki-gai no Hon`ya-san [デンキ街の本屋さん] 第01-08話
Anime Information
Japanese Title: デンキ街の本屋さん
English Title: Denki-gai no Hon`ya-san
Type: TV Series, unknown number of episodes
Year: 02.10.2014 till ?
Categories: comedy, manga, seinen -
AniDB: http://anidb.net/perl-bin/animedb.pl?show=anime&aid=10619
Plot Summary: Animerss.com
The "youthful bookstore comedy" revolves around the folks who work in a manga shop deep in a certain "Electric Town" neighborhood. ("Denki-Gai" or "Electric Town" is a popular name for shopping areas that specialize or used to specialize in electric and electronic items, like Tokyo's Akihabara.) The protagonist Umio works part-time at "BOOKS Umanohone" along with his senior at work (but not in age) Hiotan. As many dedicated manga fans visit the store, there is always something going on.